7 Things you should know about Tony Venning
Founder and Managing Director of Crucial Insurance and Risk Advisors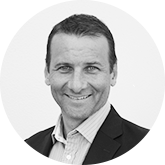 Two decades of experience
Tony's corporate insurance career spans over two decades.  He worked at Board level for a global risk and advisory insurance firms specialising in advising high profile sporting associations and multinational companies across the globe.
Recognised Lloyd's Coverholder
Tony is also a recognised Lloyd's Coverholder and has over 10 years of experience trading with Lloyd's of London.
Led programs for high profile sporting associations
Tony's experience includes leading the insurance programs for sporting bodies such as The FA, Formula 1, Cricket Australia and Netball Australia.  He has also worked on prestigious events such as the Cricket World Cup, Rugby World cup and the Olympic Games.
Tailored insurance solutions
Tony is a recognised leader in designing innovative insurance programs using both traditional and alternative solutions.  Tony and his team provide expert advice in the following areas:
Discretionary Trusts
Captive Insurance
Self-Insurance
Extended Warranty Programs
Expatriate Travel Insurance
Looks after the community
Tony's most rewarding achievement in his career was being responsible for designing an insurance program for the AFL following the collapse of HIH.  This meant children were insured to play sport at the local clubs again.
Tackles challenges
Tony loves to be challenged.  In 2008 he conquered Mt Everest alongside the England cricket team and even got to bowl a few overs at Base Camp.
Family man
Tony's family are of extreme importance and he very much enjoys spending quality time with his wife Luanne, and their 3 children.